Mulago, Kampala- August 30, 2017
The outgoing dean of Makerere University School of Public Health (MakSPH), Prof. William Bazeyo has called for the transition of the School into a College, adding that the School has all the requirements to become one. Prof. Bazeyo was this afternoon delivering the state of the School address to a highly packed and attentive audience of students, staff and partners of MakSPH at the Davis Lecture Theatre in Mulago.  
In his address, the dean who highlighted a number of achievements noted that since 2009 when he took over leadership, the School has greatly expanded in terms of academic programs, student enrolment,  number of staff, projects, finances, publications , facilities, as well as innovations. He cited some of the new academic programs including; Masters Programs in Health Nutrition, Disaster Management, Health Informatics as well  as Monitoring and Evaluation.
He noted that by 2009 when he became the Dean, the School had few funding sources and yet the University remittance for tuition was inadequate. To date, the School's revenue has increased from 8,996,845 dollars in 2008/9 to 38,571,557 dollars in 2016/17.  He said this was one of the reasons why the School was granted permission to establish a Financial Management Unit (FMU), which is a one stop Centre managing the school's grants, Finances and procurements.  Relatedly, a staff Saving and Credit Cooperative Organization ( SACCO)  has also been established and currently has a membership of 110.
On projects, the Dean reported that MakSPH is currently managing 114 projects, covering various areas of public health. One such project is the Centre for Tobacco Control in Africa (CTCA), which he hailed for its tremendous performance. He said the Centre has been able to proactively influence the tobacco control agenda in Africa and to successfully support countries like Uganda and the Gambia to enact comprehensive tobacco control legislations and policies. He noted that the Centre has also supported the Implementation of other tobacco control measures like smoke free environments, pictorial health warnings and promotion of alternative livelihoods in its target countries.
Prof. Bazeyo further reported that because of its competencies, CTCA, together with Makerere University and Public Health Association of South Africa jointly bided to co-host the 17th World Conference on Tobacco or Health, and won the competitive tender. The conference will be hosted in Capetown,  South Africa in  March 2018.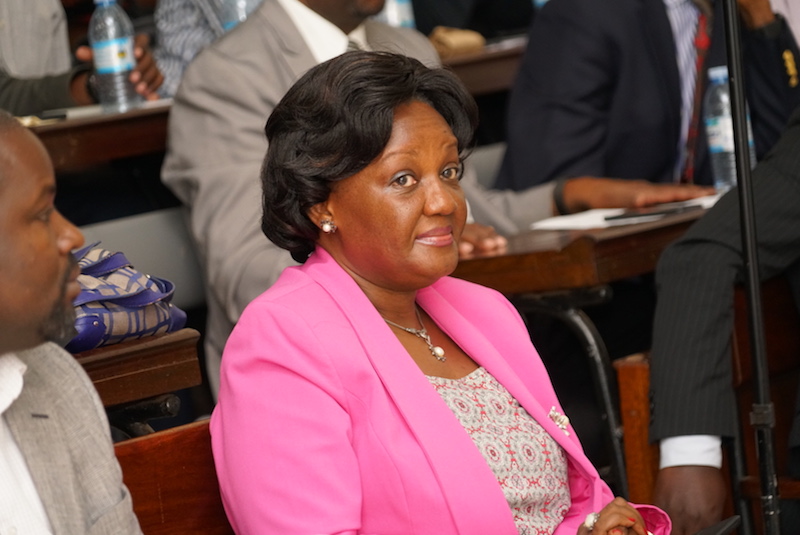 The Dean elect, Assoc. Prof. Rhoda Wanyenze hailed Prof. Bazeyo for his tremendous and tireless service to  Makerere University, and particularly the School of Public Health. She said while she may not necessarily fit into his shoes, she too pledges to take to the School to another level.
The Principal of the College of Health Sciences Prof. Charles Ibingira also commended Prof. Bazeyo's efforts and stressed the need for continuity despite the change of leadership.
Asked about his success factors, Prof. Bazeyo said the key thing is resilience, team work and believing in your team. Accordingly, he recognized a set of people, mainly from the support staff, whom he said have been very instrumental in facilitating his work. This act was greatly applauded as a great innovation, with many saying that not many people recognize the efforts of their subordinates especially the support staff.
Prof. William Bazeyo's term of office as the Dean of the School of Public Health expires at the end of September, 2017.