Uganda's Minister of Health Dr. Elioda Tumwesigye has called upon the Health Committee of Parliament to hasten the process of tabling the tobacco control Bill in Parliament for quick passing into law to protect Ugandans from the devastating effects of tobacco.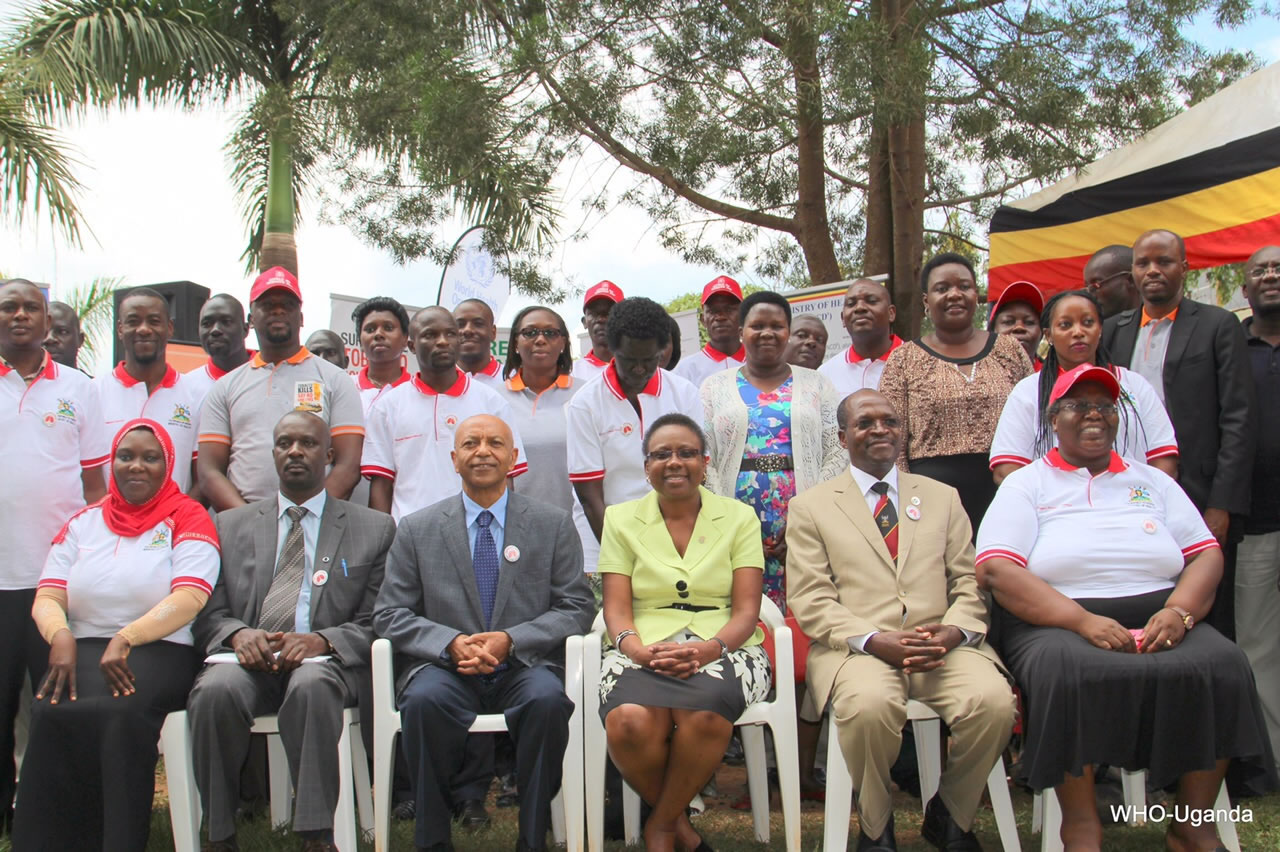 This was during celebrations to mark this year's World No Tobacco day, under the theme 'Stop Illicit trade of Tobacco Products'.  The Minister who was represented by  the Director General of Health Services Dr. Jane Aceng noted that   although Global Adult Tobacco Survey (GATS) conducted in 2013 indicated that adult use of tobacco is generally low at 7.9%, the Global Youth Tobacco Survey (GYTS)2011 shows that the trend among youth is upward with 17.36% of youths using tobacco, with an increase among girls.  He lamented that this increase is mainly due to the fact that African countries like Uganda are facing an upsurge of smuggled tobacco products like shisha for water pipes and chewed tobacco, which are not licensed for sale, making them cheap, affordable and attractive to young users. 
The Minister noted that his Ministry has drafted a Tobacco Control Policy and Strategic Plan whose implementation awaits the passing of the Tobacco Control Bill. Hon. Dr. Elioda cautioned the Health Committee where he Bill has been lying for over a year now, that Uganda should have had a comprehensive Tobacco Control Act by 2012 according to the WHO Framework Convention on Tobacco Control (FCTC) timelines.
The WHO Regional Director , Dr. Matshidiso  Moeti warned that  Illicit trade in tobacco products has three major and interrelated components: smuggling and counterfeiting of tobacco products and evasion of local tax on tobacco items. She said such products do not display health warnings as may be required by law and so mislead their users. 
 ' They are easy to access and are more affordable, making it easier for people, particularly the young, to try using tobacco' . In a speech delivered for her by the WHO Country Representative to Uganda, Dr. Alemu,  Dr. Matshidiso urged policy-makers to acknowledge the role of illicit trade in tobacco products not only in worsening the global tobacco use epidemic and its health consequences but also for its security implications, since proceeds from this trade might be used to finance organized crime such as trafficking of drugs, humans or arms. 
Accordingly, she called upon WHO Member States to ratify the Protocol to Eliminate Illicit Trade in Tobacco Products and also to take concrete steps to implement its provisions, adding that this would protect them from the financial, legal, and social and health impacts that could be brought upon by illicit trade in tobacco products. Dr. Moeti also urged members of the public to recognize the adverse health, economic and social impacts of illicit trade in tobacco products and support their governments to eliminate it.