Technical Advisor Communications and Advocacy CTCA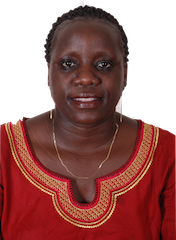 Joined CTCA as a Communications Specialist  in August, 2011. Her main responsibility is to develop and ensure proper implementation of the Centre's communications strategy. She is responsible for managing communications and advocacy with the media and other public communication channels, as well as supporting governments in the target countries to build capacity in communications. 
 Prior to joining CTCA, Jennifer worked with  Cavendish University- Uganda (CUU)  as a Lecturer of  Public Relations, Media  and Information Management from January 2009 – July 2011. Previously, she had worked as an information Officer with the National Malaria Control Program of the Ministry of Health, on the secondment of the Malaria Consortium, Africa: June 2004- July 2007. Before then, Jennifer worked with the Ministry of Information, department of Radio Broadcasting as a journalist, news editor and program producer. 
An expert in Communication and Advocacy, she holds a master's degree in Information Science  with a specialisation in  Information Management from  Makerere University, and a bachelor's degree in Mass Communication from  the same University. 
In terms of  TC work supported, she spearheaded the development of  two tool kits to support governments develop tobacco control communication strategies as well as the development of Pictorial Health Warnings (PHWs).  She is part of the CTCA team that has supported communication and advocacy with in governments to ensure policy change in the CTCA target countries. 
Tel: +256 772 761 794
Email: kalulej @ ctc-africa.org